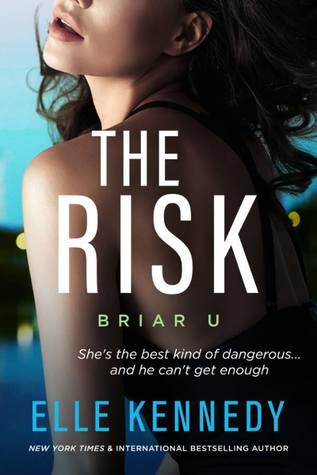 The Risk (Briar U #2)
by Elle Kennedy

Rating: ★★★★
Add on Goodreads | Purchase on Amazon
Everyone says I'm a bad girl. They're only partly right—I don't let fear rule me, and I certainly don't care what people think. But I draw the line at sleeping with the enemy. As the daughter of Briar's head hockey coach, I'd be vilified if I hooked up with a player from a rival team.

And that's who Jake Connelly is. Harvard's star forward is arrogant, annoying, and too attractive for his own good. But fate is cruel—I require his help to secure a much-coveted internship, and the sexy jerk isn't making it easy for me.

I need Connelly to be my fake boyfriend.

For every fake date…he wants a real one.

Which means this bad girl is in big trouble. Nothing good can come from sneaking around with Jake Connelly. My father would kill me, my friends will revolt, and my post-college career is on the line. But while it's getting harder and harder to resist Jake's oozing sex appeal and cocky grin, I refuse to fall for him.

That's the one risk I'm not willing to take.
*ARC provided by author/publisher in exchange for an honest review*
You can also read this review on Goodreads
It's official—I need more Jake Connelly and Brenna Jensen.
Elle Kennedy doesn't disappoint whenever she writes amazing stories about these near-perfect and wonderfully captivating hockey players. I'm not sure how she does it, or why we even deserve these fictional boyfriends, but we're indeed blessed, fellow college and sports romance loving friends. The Risk is such a good combination of sexy and sweet, with an emotionally satisfying and joyously humourous setting. It uses the enemies to lovers trope without fault, while adding forbidden romance and pretend dating to make this epic.
She's bold and fierce, and those qualities combined with her beauty make her a force to be reckoned with.
Relationships aren't Brenna Jensen's top priority. She's content keeping hookups casual, shattering eager hearts and moving forward in life. But Jake Connelly is proving himself to be difficult to resist with an irresistible charm and delicious self-assuredness that draws her towards him. When Brenna finds herself caught within an impossible situation, she enlists Jake to be her pretend boyfriend, but for every fake date, he wants a real date.
I mean, my heart certainly knows what it wants. It wants Jake Connelly. But news flash—my heart is reckless and stupid.
Brenna is my newest favourite heroine in this series. She's sassy, witty and confident, despite the survivor's guilt she harbours and the awful things she experienced from her past. Beneath her fierceness there's a guarded sense of vulnerability we receive glimpses of. And a wonderfully compassionate, somewhat unexpected loving heart that makes this woman real and easy to appreciate. I didn't think it would be possible to love her more, but that happened. From her teenage struggles, strained relationship and questions of self-worth, watching Brenna overcome these hardships but still be one boss lady made me admire her tenacity.
Being Harvard's hockey team captain, Jake is naturally cocky without being overbearing; a womaniser with a hidden sweet, romantic side. And despite having secured a position with Edmonton's Oilers next season, Jake is determined to push his college team to victory. I adore a cocksure, assertive athlete without the douche attitude—it only makes this hero even more appealing and irresistible. Jake will have your undying attention and affection, stuttering and stammering and falling all over yourself because you're smitten as hell. I, along with Brenna, couldn't resist everything about him—his wit and charm, his charisma and confidence and passion for everything he dedicates himself to.
"I like having you like this," I whisper. "On your back. Legs spread."
Chemistry between these two has been brewing for such a long ass time and even when they're bickering and disagreeing on something, the banter is absolute perfection. They have this perfect amount of push and pull, hard and soft, honesty and hesitancy with some of the hottest and sexiest scenes together that is brimming with so much passion it singes the pages. I almost spontaneously combusted reading that secretive bedroom romp!
I love that this author constantly raises the question and concern of misogyny inside the world of sports journalism. Sadly, Brenna experiences this dreadful behaviour firsthand while trying to enter the field. And even worse, real life women are subjected to unwarranted sexism everyday. We've all heard the "jokes", the mumbled comments and unacceptable outbursts. Brenna and other women attempt to dismantle the toxic environment, something I'm grateful for and profoundly proud of.
I'm officially his groupie. But that's okay, because he's my groupie. We root for each other.
The Risk lived up to my expectations, but there's little things that pulled my rating down. I was loving every moment until we started heading towards the epilogue. Jake annoyed me when he thought out of his arse instead of with what is an intelligent brain (sometimes), but I still forgave his choices (I'm weak for Connelly, don't judge me). I felt the epilogue wrapped up quickly and focused more on personal achievements rather than relationship progression. Damn it, I want more Jake, okay?! Otherwise, this is such a perfect treat, as always, from Elle Kennedy. It reminded me so much of her other series, Off-Campus, as it emanated a similar vibe. I'm dying to have more Hunter and wouldn't object to Brooks, so I can't wait for The Play!