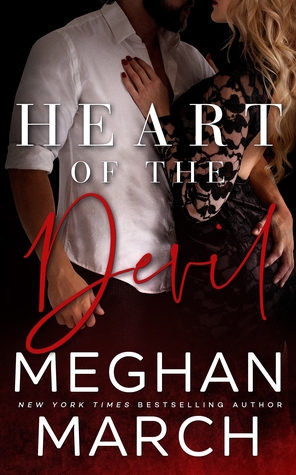 Heart of the Devil (Forge Trilogy #3)
by Meghan March

Rating: ★★★★
Add on Goodreads | Purchase on Amazon
It started as a game. She was nothing but my pawn.

But I was quick to see the error in my ways, and now she is everything I never knew I needed.

The value of a woman like India Baptiste is beyond measure.

But the problem with being a man like me? I've already screwed this up, and there's no guarantee India will take me on for one last bet.

I'll do whatever I have to do. Drop to my knees and offer her the only thing I have left. The one thing that's only ever been hers—the heart of the devil.
*ARC provided by author/publisher in exchange for an honest review*
You can also read this review on Goodreads
I've been obsessed with India and Jericho's unconventional relationship since Deal with the Devil. From rushing emotions, thrilling intrigue and captivating romance, Meghan March wrapped up this outstanding trilogy beautifully and wonderfully. Of course it isn't without heart-stopping, fist-clenching and jaw-dropping turns, or heartache that will shatter your resolve and heartwarming feelings that will leave butterflies in your stomach.
Jericho Forge doesn't have a single clue what it's like to be the center of someone's world. He's about to find out.
Jericho continues to be an irresistible character, making readers fall deeper and harder in love with this complex anti-hero. We've seen this character ruthless, dangerous and merciless; received glimpses when he is uncharacteristically sweet, but now witness the unexpected vulnerability that he only exposes to India. It is so satisfying seeing this seeming detached, larger than life anti-hero lay out his feelings for the woman he is obsessed with. Nothing can beat the Kraken!
Thrown into an apparent impossible situation, India doesn't crumble under pressure. With an unwavering fierceness, undeniable profound loyalty and immeasurable affection, this admirable heroine is prepared to sacrifice everything to rescue her husband. And she does this with tireless strength and unhesitant resilience, the perfect attributes for the bold and charismatic woman whose strong-willed attitude matches Jericho's.
She's a siren, and I'm the sailor she's trying to lure in. I've never wrecked a ship, but she could tempt me to do anything.
Unexpected surprises and unforeseen enemies made this a fast-paced, but exciting and riveting ending. I was desperate for Jericho and India to have more time together, but the limited moments they shared only made those scenes more precious and memorable. Full of teeth-gritting suspense, Heart of the Devil is sure to keep your interest piqued, heart aching and emotions soaring. I know with so much certainty I won't be quitting Meghan March's stories anytime soon!