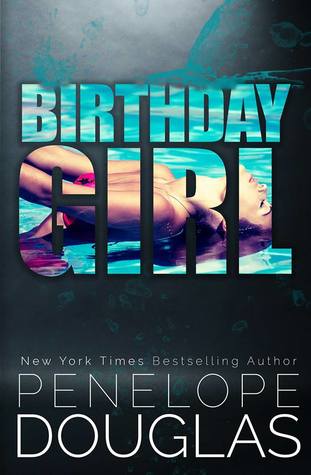 Birthday Girl
by Penelope Douglas

Add on Goodreads | Purchase on Amazon
JORDAN
He took me in when I had nowhere else to go.
He doesn't use me, hurt me, or forget about me. He doesn't treat me like I'm nothing, take me for granted, or make me feel unsafe.

He remembers me, laughs with me, and looks at me. He listens to me, protects me, and sees me. I can feel his eyes on me over the breakfast table, and my heart pumps so hard when I hear him pull in the driveway after work.

I have to stop this. It can't happen.

My sister once told me there are no good men, and if you find one, he's probably unavailable.

Only Pike Lawson isn't the unavailable one.

I am.

PIKE
I took her in, because I thought I was helping.

She'd cook a few meals and clean up a little. It was an easy arrangement.

As the days go by, though, it's becoming anything but easy. I have to stop my mind from drifting to her and stop holding my breath every time I bump into her in the house. I can't touch her, and I shouldn't want to.

The more I find my path crossing hers, though, the more she's becoming a part of me.

But we're not free to give into this. She's nineteen, and I'm thirty-eight.

And her boyfriend's father.

Unfortunately, they both just moved into my house
---
★★
★
★
You can also read this review on Goodreads
Birthday Girl is my first story by Penelope Douglas. I know, I'm a terrible person who takes way too long to jump into good things. We're here now and it won't be my last story. I couldn't resist the cover; it is gorgeous. And the blurb? So enticing! Those two are what really propelled me into finally reading something by Ms Douglas.
I normally can't stomach significantly older men/fathers. Often the trope is weird, creepy and cringe-worthy. However, Ms Douglas managed to succeed in delivering that trope without it turning into an awful mess. And the taboo aspect made it so much more worth it.
And that's what I am. Her boyfriend's father. Nothing more. But deep in my heart, the small ember growing bigger and bigger every day knows that's a lie.
Jordan Hadley is an interesting heroine. Despite being young, she's mature, wise beyond nineteen years. That's what happens when your mother leaves and your father is nothing more than deadbeat, trailer trash; she was forced to grow up quick and start fending for herself.
Moving into her boyfriend's father's house rent free will allow Jordan plenty of opportunity to save money. But this seeming amazing chance brings more complications than she ever anticipated.
We're victims of circumstance. At least I can feel confident that I would've liked him no matter what. If he were any other guy who came into my bar, sat down, and talked to me, I would've wanted him…
When nineteen himself, Pike Lawson became a father. Without hesitation, he started working numerous jobs, sacrificing his social life and giving up his dreams to support his son.
The romance between Jordan and Pike is explored so wonderfully. It isn't salacious or obscene; it is dealt with tact and sensitivity. Their mutual concerns and fears of others judgements is realistic and understandable. Birthday Girl is about a taboo romance, but it is also more than that: it is about forgiveness, family appreciation, raw sensuality and working hard towards your dreams.